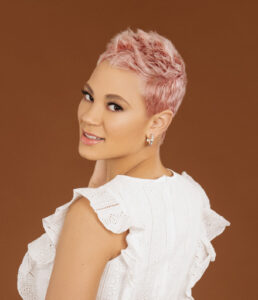 Spring is the season of rejuvenation, growth, and change – and what better time to transform your look and embrace the latest hair trends than now? As the flowers bloom and the days grow longer, it's time to shed your winter layers and revitalize your tresses. Welcome to our Blossoming Beauty campaign, where we celebrate the art of Spring hair transformations and empower you to embrace a fresh, new style. Read on to discover the hottest hair trends, tips for healthy locks, and how to book your appointment for the ultimate Spring hair makeover.
Spring Hair Trends
Effortless Waves: Embrace your hair's natural texture this season with effortless, beachy waves. This look is perfect for those seeking a low-maintenance style that exudes confidence and carefree vibes.
Pastel Hues: Spring is all about soft, delicate colors, making it the perfect time to experiment with pastel hair shades. Think rose gold, lavender, and baby blue – the possibilities are endless!
Curtain Bangs: This versatile fringe style has made a comeback and is perfect for framing your face and adding an element of sophistication to your look. Curtain bangs work well with various hair lengths and textures, making it a popular choice this Spring.
Textured Bob: For a chic and modern style, opt for a textured bob with subtle layers. This flattering cut adds volume and movement to your hair, making it a perfect choice for those wanting a refreshing change.
Dimensional Highlights: Add depth and dimension to your hair with strategically placed highlights that complement your natural color. This technique creates a sun-kissed, multi-tonal look that brings out the best in your hair.
Tips for Healthy Spring Hair
Trim Your Ends: Start the season off right by getting a trim to remove any split ends and promote healthy hair growth.
Hydrate and Nourish: Winter can leave your hair dry and damaged, so invest in a deep conditioning treatment to restore moisture and shine.
Protect from Heat: As you style your new Spring look, be mindful of heat damage. Use a heat protectant spray and opt for lower heat settings when using hot tools.
Embrace Natural Products: Choose hair care products with natural ingredients and fewer harsh chemicals to maintain your hair's health and vibrancy.
Regular Salon Visits: To keep your Spring hair transformation looking fresh and well-maintained, schedule regular salon appointments for touch-ups and treatments.
Book Your Spring Hair Transformation
Are you ready to embrace a new look this Spring? Our talented stylists at SIGNATURE IMAGE SALON are excited to help you achieve your Blossoming Beauty. Book an appointment today by visiting our website, or stopping by the salon. Let's welcome the season of renewal and growth with stunning, head-turning hairstyles that celebrate the essence of Spring.